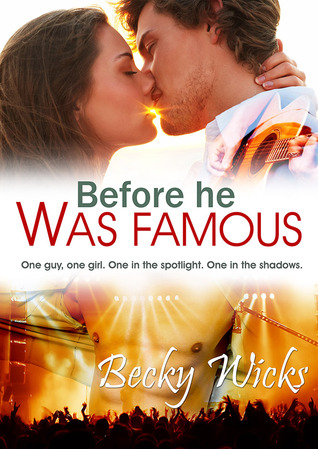 "Love isn't all sparks and firecrackers. Sometimes it's more subtle than that." - Becky Wicks, Before He Was Famous
WARNING: This book contains sexual content and is not for younger readers.
Best Friends falling in love. *sigh* There's always so much history and it seems somewhat easy to slip into the roll of lovers and significant others. Well in Before He Was Famous, that's not true. There's lots of things that both characters have to overcome and both are dating other people so there's that as well. I do feel bad for the people they were dating but really, anyone can see that these two belong together. They call each other Peter and Pan! It's meant to be and obvious as well. I loved the fact that Noah and Chloe had a history together and that Noah and Chloe had these little things that were left over from their childhood and remained even as they were adults. It just seemed really sweet.

Then there was the look we got into Noah and his rising fame. I never really thought about how it must feel to go from normal guy to famous pretty much overnight. And having to deal with a manager and company that won't let you do things that you want to. It's very restrictive. And I was able to view it throughout this book. It was refreshing and opened my eyes to things a bit.

At times I really felt that Chloe was annoying. She was forcibly putting up things to keep herself away from Noah in anything more than a best friend. It was annoying because I was rooting for the couple but also because everyone else realized they were meant to be together before Chloe accepted it really. But it just wasn't Chloe. Occasionally, Noah made me very frustrated with his very annoying habit of being thick. But that's just me.

Before He Was Famous was a good read, one that gave me a new look at the rising stars of today. It also made me sigh and growl occasionally(not at the same time, thankfully). But if you're looking for a celebrity/best friend romance, than you should give Before He Was Famous a chance.