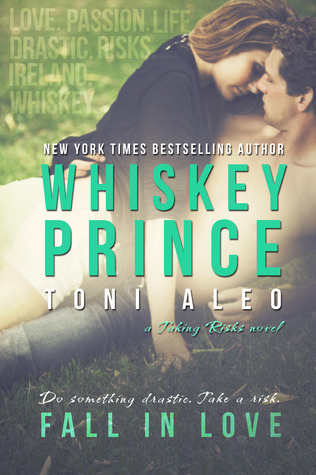 "Not at all, but if I'm to get married, I want it to be because I'm mad about her. Not for the reasons my da wants."- Toni Aleo, The Whiskey Prince
After Amberlyn Reilly finds herself an orphan, she finds herself wondering how to move on. She's still young but she's never experienced what other people her age have and she's lost without her parents. When she is given a letter written by her mother to Amberlyn, she decides to follow her mother's wishes and go to Ireland. What she doesn't expect is to meet Declan, heir to his family's distellery but only if he's married within six months. When the two meet, sparks fly and it's not hard to see they are meant for each other. But fate sometimes like's playing cruel jokes. Will it succeed this time? Or will love prove stronger than everything else?
Official description from Goodreads:
Take a risk.
Do something drastic.
Fall in love.
When Amberlyn Reilly loses her mother, her whole world comes crashing down. Having been caretaker to her for most of her teenage years, Amberlyn is inexperienced in many aspects of life. She hasn't had time to live, have fun, or enjoy even the little things. It's only when a letter from her mother, asking her to fulfill three things, sends her off to Ireland to live a life she never thought possible that she begins to heal.
Declan O'Callaghan was born and raised in Ireland and has his family's legendary whiskey in his veins. He's shy and not a fan of the pressure and spotlight that comes with his family name, or the title he was given at birth—the Whiskey Prince. Declan knows just what he wants and that is to take over the family dynasty, but when his father gives him an ultimatum, everything he's worked for could come undone in the blink of an eye.
With six months to get married, the reclusive Declan spots Amberlyn across a lake and instantly feels the need to know her. Soon, the two find themselves traveling down a path neither expected. However, like any road, there are bumps and side streets to derail them. Can Declan help find the pieces that will make Amberlyn whole again? And will Amberlyn stay or run when she learns of Declan's deadline of marriage?
Toni Aleo draws readers in from the very first sentence. It's simple and yet conveys so much. Then Amberlyn continues on telling her story and you can't help but feel an immediate connection with her and find yourself sympathizing for her. Everyone can sympathize with Amberlyn even if they haven't experienced loss of such magnitude as Amberlyn. People still understand the feeling and can connect with the pain that Amberlyn is feeling as she struggles to find a way to move on. But it's also remarkable that Amberlyn has sacrificed so much and yet feels no bitterness. Feel a pride in her for being able to do that at such a young age.
Throughout The Whiskey Prince we are shown several emotional scenes and it's hard for the reader not to feel the emotions of the characters. I found myself reading this book with an almost permanent happy grin on my face. But there were a few times where I just had to let myself cry even as I continued reading.
If you enjoyed the movie P.S. I Love You, than I think you'll feel somewhat of a connection here. There seemed to be a similar situation to the plot of that movie but it also didn't follow the same path as P.S. I Love You. The two were similar in the way that her mother leaves two letters for her but that seems to be where the similarities end besides the grief that both characters feel and work through.
Then there's Declan. Throughout the entire book I can almost hear his Irish Brogue and I found myself cursing Toni. Mostly because she keeps creating these characters that I can't help but take as Book boyfriends and no real guy could ever compare to the sweet, touching characters that Toni has created(at least I haven't met one yet.) But he's also different from many of Toni's characters. For example, he's not as confident or outgoing as many of the Assassin's series characters seem to be. It was a refreshing change and I'm really glad that I was able to get an ARC copy of The Whiskey Prince.
Throughout The Whiskey Prince, the characters almost seem to be interacting with the readers at certain times. It was great! And it made the reader feel even more into this book.
I loved the interaction between characters as well. It could be frustrated, or funny, but it always felt real. I especially looked forward to the interaction of the two families with each other. The family dynamics were fun to read and get involved in.
There was also an unexpected twist that I certainly didn't seem coming. I found myself begging for the book not to end so that I would be able to find out if everyone was okay and that everything was going to work out. Although there was still enough of a cliffhanger left to lead into the next book in the series.
Okay, guys I seriously need to stop reading books that are in series' that are still being released. It's just painful to have to wait! But then I probably wouldn't find all these amazing books and authors so on the other hand, never mind. Ignore that first sentence.
Toni Aleo has created another masterpiece and I look forward to future books! Oh, and The Whiskey Prince is being released on July 14th, 2014.